What are the Benefits of Frameless Shower Glass?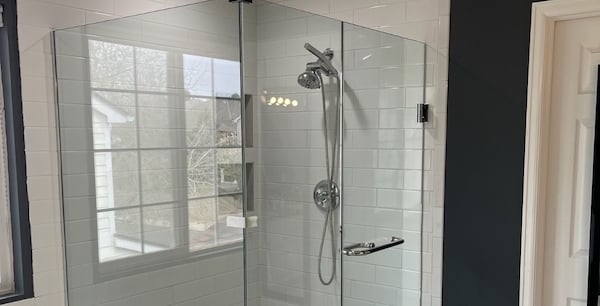 Looking for a quick and easy way to upgrade your bathroom? Frameless Shower Glass will give your space a luxurious look with minimal time and effort! There are so many benefits incorporating frameless glass into your bathroom remodel we discuss a few of them below.
Benefits of Frameless Shower Glass
Aesthetically Beautiful: Frameless showers are a gorgeous, modern upgrade that will provide a more open and spacious feeling and enhance the look of any bathroom.

Easy to Clean: Frameless showers are designed to attach to the walls or tub with minimal hardware. This eliminates the need for tracks and frames of other glass shower options where moisture can gather and mildew can grow.

Durable: There is no comparison to the longevity of a frameless shower enclosure when comparing to shower curtains, or framed enclosures. Frameless showers do not have the structural support of the metal framing, which requires a thicker glass panel. CAPO Kitchen and Bath frameless panels are made with 3/8" thick tempered glass. This glass will last for years to come and is highly resistant to cracking & scratching.

Customizable: Our Frameless shower glass can be customized to fit nearly any size shower or layout. You can add panels over an existing tub, or expand with additional panels to create larger shower designs. Doors can hinge from either side and smaller custom panels can be fabricated for half walls and other configurations too.

Increased Home Value: Incorporating a frameless shower into your bathroom remodel is considered a luxury upgrade and will increase the value of your home immediately. It looks beautiful and creates the illusion of more space. Buyers know that a frameless shower is less maintenance and more durable than other enclosures.

Protection: Water can be one of the most damaging to any home and can easily escape through shower curtains or old shower frames. Frameless panels with proper seals will keep all the water in your shower.
Reasons Going Frameless Might Not Be Right For You
While there are several benefits to Frameless Shower Enclosures, you may also want to consider a few reasons why a frameless solution might not be right for you.

Harder to Install: We recommend hiring a professional contractor to properly install your shower glass. Frameless shower panels weigh more due to their thickness. Because of this, extra care must be taken to ensure they are securely mounted to the wall. This is usually remedied if you attach the panels to wooden studs.
Budget: Frameless shower glass is more expensive. For saftey reasons, glass used in frameless enclosure needs to be thicker and higher quality, which makes it longer lasting and more durable, but also increases the cost. However when you consider the durability, improved aesthetics and added home value it is a great investment.

Privacy

: Frameless glass opens up your space making your bathroom feel larger, brighter and more modern. However, this eliminates any privacy you might have with a shower curtain or other type of enclosure and might not be right for every bathroom.
We hope this helps you weigh the pros and cons of Frameless Shower Glass. There are many more benefits than drawbacks and our team is ready to help get you all of the panels and doors you need for your shower renovation. Let us help you get your project going, simply fill out his form and our team will get in touch!
Examples of Frameless Shower Enclosures