Common Questions about Stone Shower Pans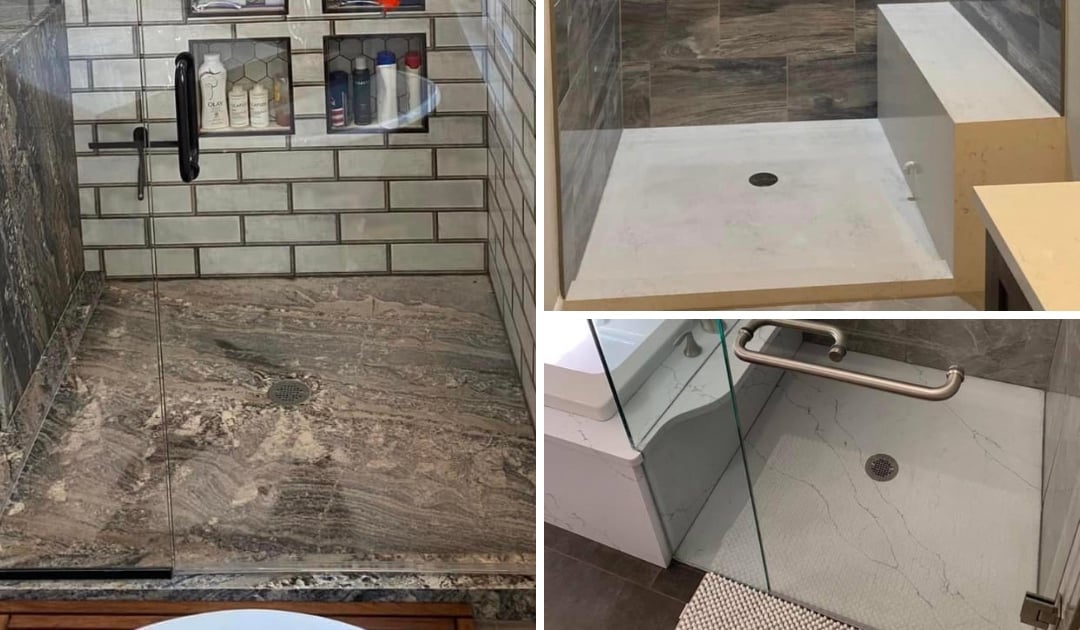 We are one of the only stone shops in Denver that design, fabricate and install stone shower basins. These are growing in popularity due to their many benefits over acrylic and tile shower floors. (seriously, they're awesome!)

Why aren't they slippery? What stone do you use? What are the benefits? Here are few of the most common questions to help you learn more about this shower pan option.
What is a stone shower pan or stone shower basin or base?
Our stone shower pans are a solid stone shower floor option that can be fabricated with most stone materials such as; granite or quartz. It serves as the foundation for a shower and provides a durable, water-resistant surface.
What type of stone is best for stone shower pan?
We have worked with a variety of stone materials, but we recommend Quartz or Granite in a darker color for stone shower floor for maximum durability.
Are stone shower pans slippery?
This is where expertise in the fabrication process is key. We have perfected fabrication to ensure proper non-slip, proper slope, and grippy but smooth surface that provides even less slip when wet.
Are stone shower pans ADA compliant?
Yes. We have a contractor who can help and/or can work with your contractor to meet all compliance requirements. Curbless and zero entry options available.
How do I clean and maintain a stone shower pan?
With no grout, cleaning is quick and easy. We recommend a mild stone cleaner or a pH-neutral cleaner to remove soap scum, mineral deposits, and dirt.
Can a stone shower pan be customized to fit my bathroom?
Yes, one of the advantages of stone shower pans is their customizability. They can be fabricated to fit the specific dimensions of your shower area, including shape, size, and drain placement. It's easy to design a curbless or curbed shower floor, or add in benches, ledges, niches or other stone customizations. Certain limitations do apply for drain placement. Contact an expert at Capo Kitchen and Bath today for further details. They can create a design with you that is beautiful, requires less maintenance, and is grout free.
Why would I choose a stone shower pan?
Stone shower pans are a luxurious upgrade to any bathroom remodel. They are the most durable, beautiful, easy to clean shower floor surface and they should last for the duration you own your home!
Are stone shower pans expensive?
Generally, stone shower pans tend to be less expensive than traditional options like a custom poured tile shower floor. The cost of a stone shower pan can vary depending on the type of stone, size and level of customization. Oftentimes, customers can create a stone shower basin with a remnant found in our Denver showroom, or from the remaining stone material used in their bathroom remodel and this can save hundreds or thousands over the cost of purchasing a full slab.
Can a stone shower pan be used with any type of shower enclosure?
Yes, stone shower pans can be used with various shower enclosures, including framed, semi-frameless, and frameless options. The shower pan's design and drain placement can be tailored to accommodate the specific requirements of your chosen shower enclosure.
Get started with a Free Design Consultation for your Shower project: