Fall In Love with Kitchen Countertops
Waterfall Stone Counter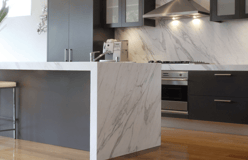 Have you ever seen a waterfall of stone? Most people dont know it but with modern technology stone fabricators can cut and polish a waterfall style feature on kitchen counters. Machines cut two perfectly mitered edges that allow a countertop to seamlessly continue down the edge of a kitchen cabinet. What makes this edge so special?
Sheer wow factor.
In an age where every real estate guru, broker, agent, and HGTV expert is saying the most important room to invest is the kitchen. A waterfall edged counter is a feature any person upgrading to a granite or marble countertop should consider. Whether you're trying to sell or raise the value of your home a waterfall edge on a kitchen countertop is a sure fire way of distinguishing your home in the market .
Check out these beautiful examples of the water fall edge.